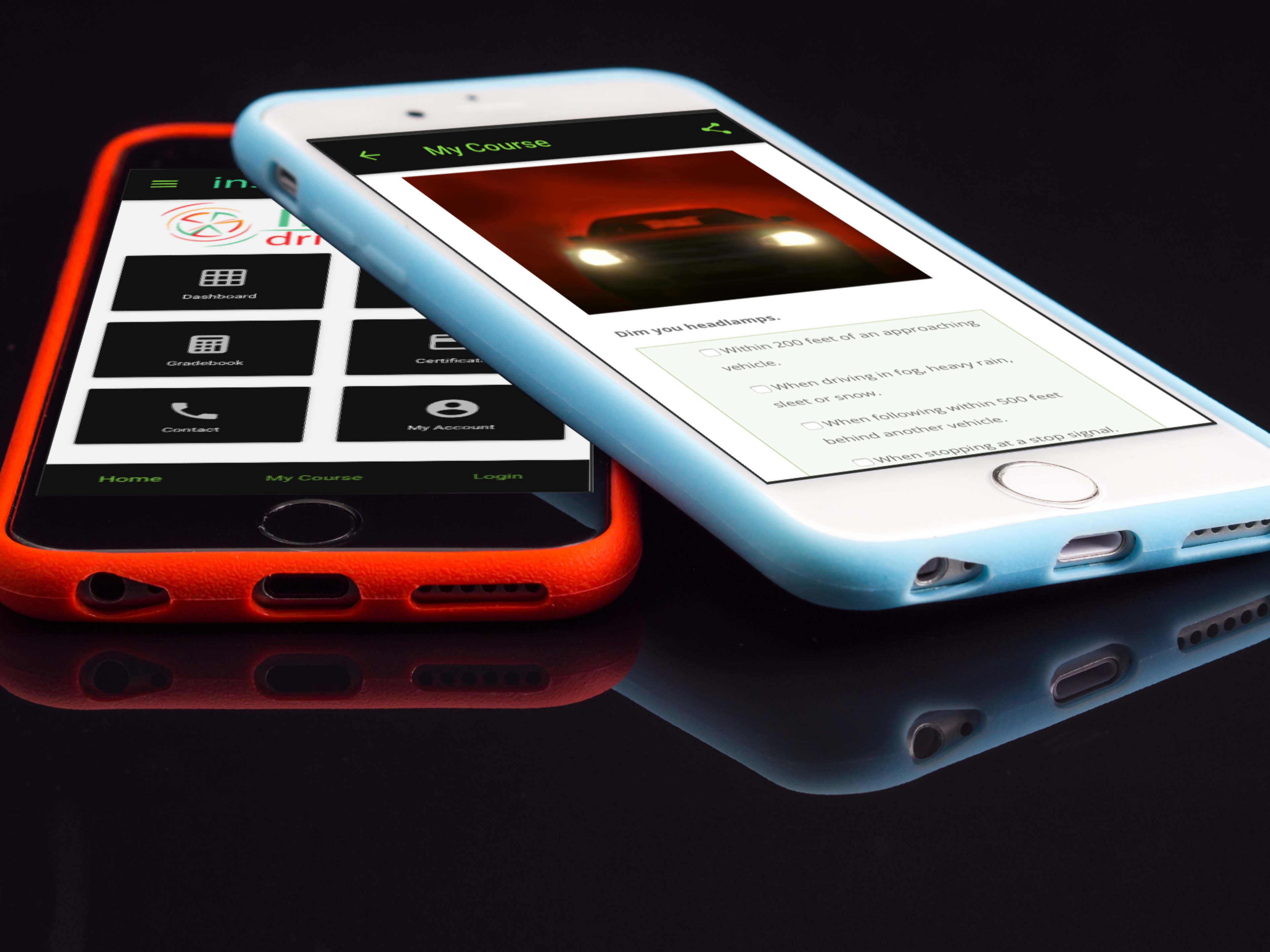 InstaDriversEd
The easiest and coolest way to take drivers ed


Keeps Track On Any Device
Switching Devices is no problem. We keep track so you don't have to.
Instant Certificate
We provide immediate access to your certificate at no extra charge
Easy to Use
Get your license fast and easy right on your phone or mobile device.

No More Boring Classrooms!
We know you are busy! Download our app to make progress on the go! On the app you can sneak in a quick lesson, keep a closer eye on your drive times, and track your driving hours.
InstaDriversEd is driver's education done right. No more hard to use websites or phone apps. We guide you step-by-step to help you get your license.
What Our Customers Are Saying
Don't just take it from us, let our customers do the talking!
"Our family was incredibly pleased with Virtual Drive for both of our teenagers. Each one took the course and did great on their driving tests. We had no problems with the website or instructions. Everything was easy to understand, comprehend and follow. We were asked by several families in our community what course we used and we were happy to recommend Virutal Drive. We also have 3 younger boys who will need this course in the next several year and we will for sure be using Virtual Drive with them. I was also very pleased with email correspondence and the quickness with which my questions were answered."
"My husband and I chose Virtual Drive of Texas for both of our children. Our family had great success with this parent-taught program as it was very simple to follow and very detailed in providing crucial lessons regarding driving. Also, I had questions regarding some forms with my son and they were extremely kind and helpful. My son has been driving for two years and is an excellent driver. My daughter is completing her course at the present time and I feel confident that she will be ready to hit the roads when she finishes. I highly recommend this parent-taught course to anyone that is getting their child ready for the next big stage of their life. "
"Hello my name is Adrienne Holmes.I have a son Joseph Holmes and I enrolled him in your class.It was the best and truly the best class he had.He was able to get online when he came from work on his own time.The price was very affordable and I would recommend this service to any one who needs this course.MY MOTTO IS IF YOU WANT TO DRIVE TAKE THE VIRTUAL COURSE IT'S VERY AFFORDABLE! Thank you so much for helping my son"
Frequently Asked Questions
How Long Does Texas Drivers Ed Online Take?
Teen Drivers under 18:
To complete Drivers Ed in Texas, teens under the age of 18 must complete their course before their 18th birthday.  This includes 32 hours of online training and 44 hours of behind the wheel driver training with a designated parent or legal guardian.  Students must have held their Texas learners license for at least six months, complete the Texas IMPACT training and pass the DPS road test.
Adult Drivers 18-24
Adults between the ages of 18 and 24, must complete the six hours of online Drivers Education training for Adults prior to their 25th birthday and complete the Texas IMPACT training and pass the DPS road test.
Texas Drivers Ed Requirements & Eligibility
Driver's Ed is mandatory in the state of Texas for first time drivers under the age of 24. The requirements and eligibility are based upon the students age.
For Teens 14-17:
Students younger than 18 years of age must meet the following requirements:
Have a parent or legal guardian who is qualified to instruct the course.
Complete 32 hours of Drivers Ed instruction online.
Complete 44 hours of behind-the-wheel driving instruction with parent or legal guardian.
Receive Certificate of Completion form DE-964.
For Adults 18-24:
Students 18-24 years of age must meet the following requirements:
Complete 6 hours of classroom Drivers Ed online.
Pass the DPS written test in the online course.
Receive their Texas learner license.
Receive Certificate of Completion form ADE-1317.
*** All first time drivers under the age of 24 must complete the free Texas Department of Public Safety Impact Texas Young Drivers course, within 90 days of completing their TX driver's ed course, before the DPS driving (road) test will be administered.
Teen Drivers Ed 14-17
In Texas, teens may begin drivers education as early as 14 years of age, however, they cannot receive their learners permit until they are at least fifteen years old. Most teens start drivers ed at 15 in order to complete the course requirements to get their provisional drivers license at age 16.
Teens must complete 32 hours of classroom (online) drivers education instruction, which covers driving safety, traffic laws, defensive driving, road rules and other important instructional material for first time drivers.
After completing the first six hours of the online course and receiving their Texas learners license, students can begin their first driving lesson with their parent or legal guardian as their driving instructor. Learning how to drive is the most rewarding part of the drivers training course. The parental driving instructor will teach their student driving techniques, how to drive safely and help their student gain valuable driving time behind the wheel with the help of structured in-car driving lessons designed to help your student learn how to drive in record time.
Once the student has completed the 44 hours of in-car drivers ed training with a designated parent, grand parent or legal guardian, has held their Texas learners license for at least six months, completed the Texas IMPACT young drivers program (offered by the State – free), and are at least 16 years, they can apply for their Texas provisional drivers license.
Virtual Drive's Teen Driver's Ed course is approved by the Texas Department of Licensing and Regulation and the Texas Department of Public Safety. The course includes everything your teen needs to get their learner drivers license, drivers license and insurance discount.
Adult Drivers Ed 18+
Adults between 18-24 are required by the Texas Department of Licensing and Regulation (TDLR) to complete an approved Drivers Ed course for adults 18-24. Our adult course covers everything that is on the drivers license written test, which is included in the final exam.
Adults over the age of 25 can take the course as well. Included is everything you need to pass the driving permit test and receive your Texas driver license. Most of our students complete the Adult Drivers Ed training in a day.
Don't Be Shy
If we didn't answer all of your questions, feel free to drop us a line anytime.